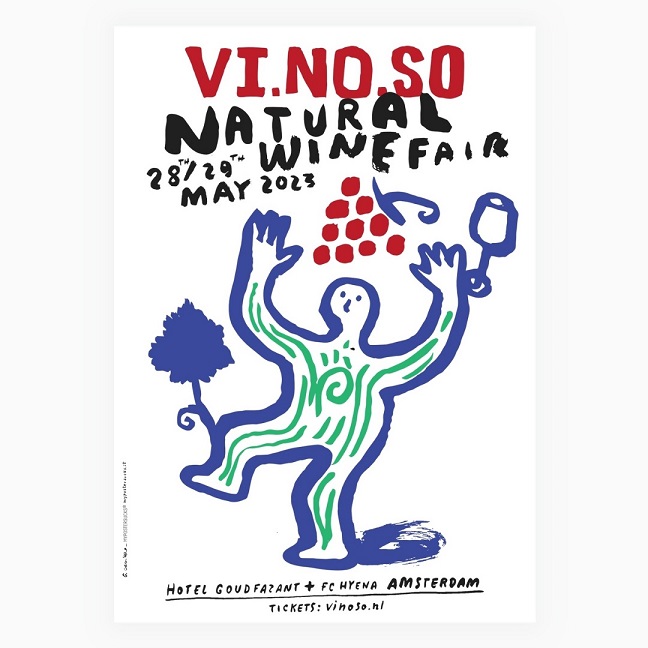 Natural wine.
From healthy, chemical free vineyards; from grapes and nothing but grapes; spontaneously fermented; without additives and unnecessary treatments. Wine with no (or very limited) added sulfites.
VI.NO.SO!
In Spring, VI.NO.SO holds their annual natural wine fair in Amsterdam to celebrate this worldwide community of passionate makers and their kaleidoscope of flavours.

---
Returning for a fourth edition, this year's event will be spread out across two days – Sunday, May 28th and Monday, 29th. There will be nearly 60 winemakers present and more than 300 natural wines to taste!
Sunday, May 28th
A celebration of natural wine from Austria to Portugal and from the Czech Republic to Italy for the general public of wine lovers.
You can expect plenty of tasting, bites to eat and live music, as well as some interesting master classes*.
Tickets   €18,50 including a free VI.NO.SO tasting glass to take home.
Venue     Hotel Goudfazant + FC Hyena – Aambeeldstraat 24, Amsterdam
Time       12pm until 6pm
A selection of wines will be available to purchase by the glass to enjoy in the sun with your friends and a bite, and you will also be given the opportunity to choose from a selection of wines to buy in bottle to take home.
* On Sunday at 13pm there will be a special screening of 'Call it Amber',
a wine documentary about orange wine, followed by a tasting with Simon J. Woolf (author of Amber Revolution) and discussion with director Andraž Fistravec and protagonist Valter Kramar from Hiša Franko. More info and tickets HERE.
Monday, May 29th
Monday will involve equal amounts of wine, with more of an industry focus. A nice, quiet tasting for wine professionals and eager members of the public.
Among the 55+ winegrowers, there will be some 'wild cards' that can't be found on any wine menu in the Netherlands (yet!), looking for an distributor.
Apply for professional registration for free here.
Members of the public can also buy limited Monday tickets (€18,50 – including a free VI.NO.SO tasting glass to take home) TICKETS AVAILABLE HERE
Venue     Hotel Goudfazant + FC Hyena – Aambeeldstraat 24, Amsterdam
Time       11am until 5pm
LIST OF PARTICIPATING PRODUCERS
AUSTRIA
Quantum Winery
Weingut Hareter
Weingut Matthias Hager
CZECH REPUBLIC
Syfany
FRANCE
Bruno Barwise
Domaine de Trivel
Julien Peyras
Le Bouc a Trois Pattes
Les Clos Perdus
Muller-Koeberlé 
Domaine les Salicaires
Domaine Stéphane Delettre
GERMANY
&Handwein
Max Dexheimer
Bianka & Daniel Schmitt
Weingut Mann
Weingut Weigand
ITALY
Ranchelle
Agricola I Forestieri
Andrea Marchetti
Candeloro, Az. Agr.
Controvento
Chinati Vergano
Curto
Etnella
Faedesfa
Francesco Guccione
Garganuda
Il Vinco
La Disfida Vini
Malauva
Mani di Luna
Marco Barba
Menti
Nasciri
Pacina
Podere della Bruciata
Rocco di Carpeneto
Ruvido
SETE, Az. Agr.
Tenuta Grillo – Il Tufiello
Tenuta Baroni Campanino, Az. Agr.
Vigne del Pellagroso
Vigne di San Lorenzo
THE NETHERLANDS
Elegast (cider)
PORTUGAL
Quinta Vila Rachel
Vinho da Ordem
SLOVAKIA
Marvla Tindo
SLOVENIA
Sebastian Stemberger
SPAIN
Ca Foracaime
Celler Tarannà Po-ètic
Goyo Garcia
La Zafra
Pinyolet
Raimones
Ros Nat Wine
Uva de Vida
Vins Desantesos
Keep up with the latest news: follow us on Facebook and Instagram
Facebook and Instagram: here we will share regular updates on the fair.
Contact us at
info@vinoso.nl